Why Scriptwriting are important in movies, novels, and stories?
A brief introduction to Scriptwriting.
Scriptwriting is important in movies, novels, and stories because it is the foundation upon which the entire creative process is built. A script is the written version of a story and it contains all the important elements such as characters, plot, dialogue, and setting that will be used to create the final product. It serves as a roadmap for the director, actors, and other members of the production team, providing them with the information they need to bring the story to life. Additionally, scriptwriting is important in the development and pitching process, as it is often used to secure funding and attract talent to a project. In the case of novels and stories, scriptwriting help authors to organize their thoughts and ideas in a structured way before they start writing. A well-written script can make the difference between a mediocre production and a great one.
Scriptwriting software has made writing script so much easier. So let's take a look at the best screenwriting tools for 2023.
The script is the most important and important issue when it comes to conveying the exact same emotions that the writer wants to convey. Screenwriting is made easier with the perfect tools to reduce  human error and  make the scripting process  more systematic and accessible. We all know that a good script, or a great script written by a good screenwriter, is the first step to making a highly rated movie. Entry-level screenwriters deserve industrial-grade software that works closely with the creative process; hands go.
The amazing script writing tools must be user friendly and should give an all-round support and should be easily compatible with all the system without much efforts. We all are familiar with some of the famous script writing tools named as Final Draft, Celtx, Arc Studio Pro, Studio Binder, Squibler, etc. Now all of these focuses on different things like some on personal preference and writing process , step by step of production process and some on actual plan and design every step of the production process.
Let's have a short introduction on some of the commonly used script writing tools
StudioVity : Empowering Creativity
StudioVity -script-writing software which is widely used. Features provided by them is reducing the work of script writers by providing some user friendly services. They provide the user with the facility of screenplay, Script, Novels and much more. They help in managing and collaborating projects with our teams with all the minute details available at a fingertip and that too in an organised format.StudioVity is an easily compatible software across all devices. It supports more than 350+languages.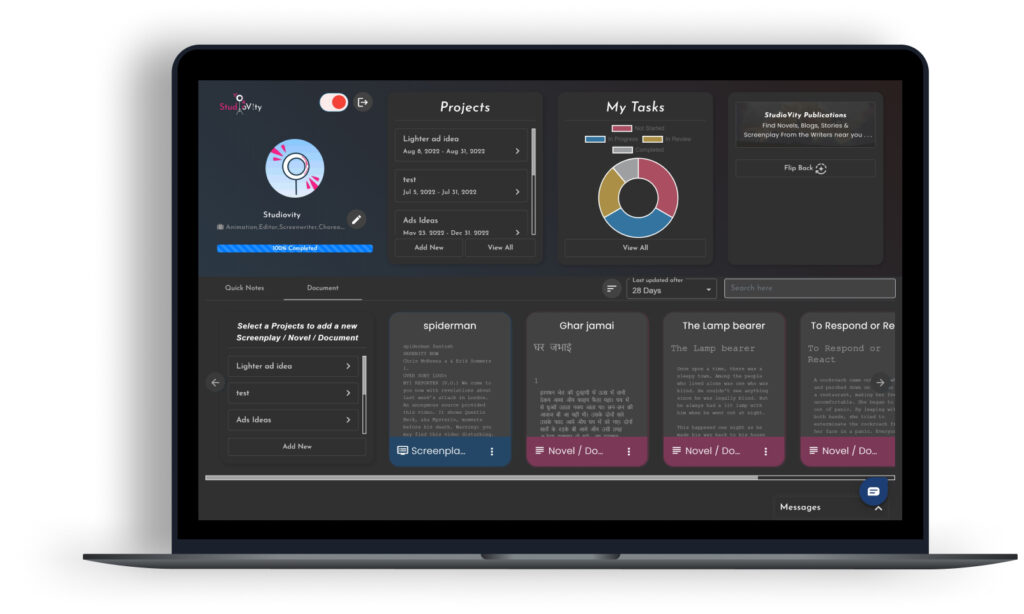 StudioVity - Scriptwriting and Pre-Production Software.
Let's have a look at their pricing :
The amazing part of StudioVity is that one can use it for free till they want to use. But if they want to make their script much more interesting by just using a software whose PRO/paid version is available just at $2 per month.
StudioBinder : A seamless Production workflow​
Studio Binder the script writing software which is widely used. The greatest advantages of Studio Binder are the abundance of free content. The software not only provides a competitive free option for those who don't want to activate their paid subscriptions, but also provides a wealth of valuable filmmaking information by analysing popular scripts, scenes, and approaches. Their blog content section adds a special feature to their software.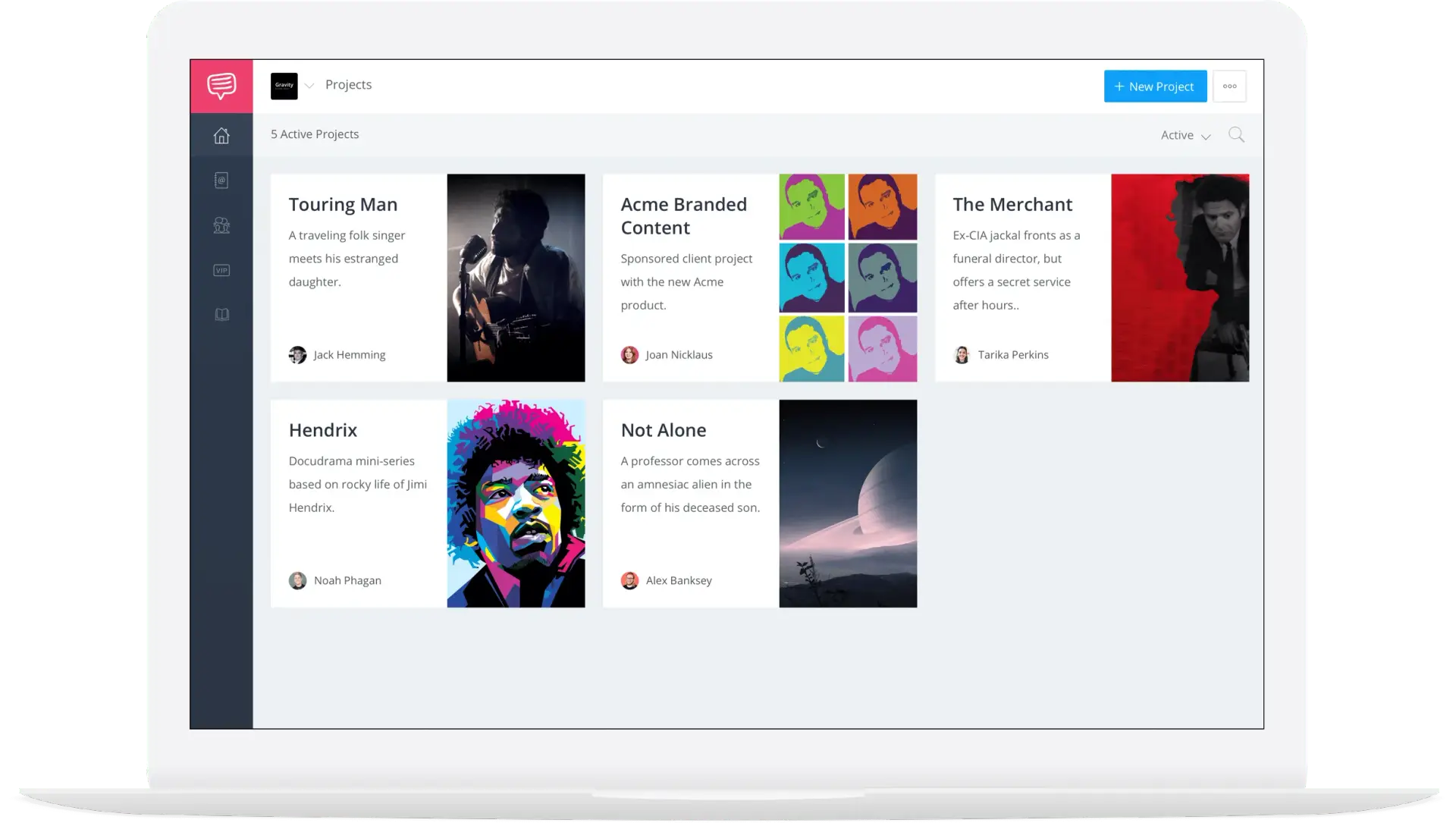 Let's have a look at their pricing :
The professional package is the best option for filmmakers, as it allows you to access to all important production features and also some collaborative features and the ability to create the custom branding found in Studio package. The indie package is available at $29 per month and the Studio package comes at $99 per month. It also provides free access to user to some extent. Those filmmakers or script-writers ready to commit can opt for a yearlong subscription which will save some of your bucks.
Final Draft : A Cast & Crew Company ​
One of the biggest advantage of Final Draft, is the formatting support the software provided. Users have a huge range of options to format scripts to industry standards using features such as Tab and Enter, reformatting tools and formatting assistants.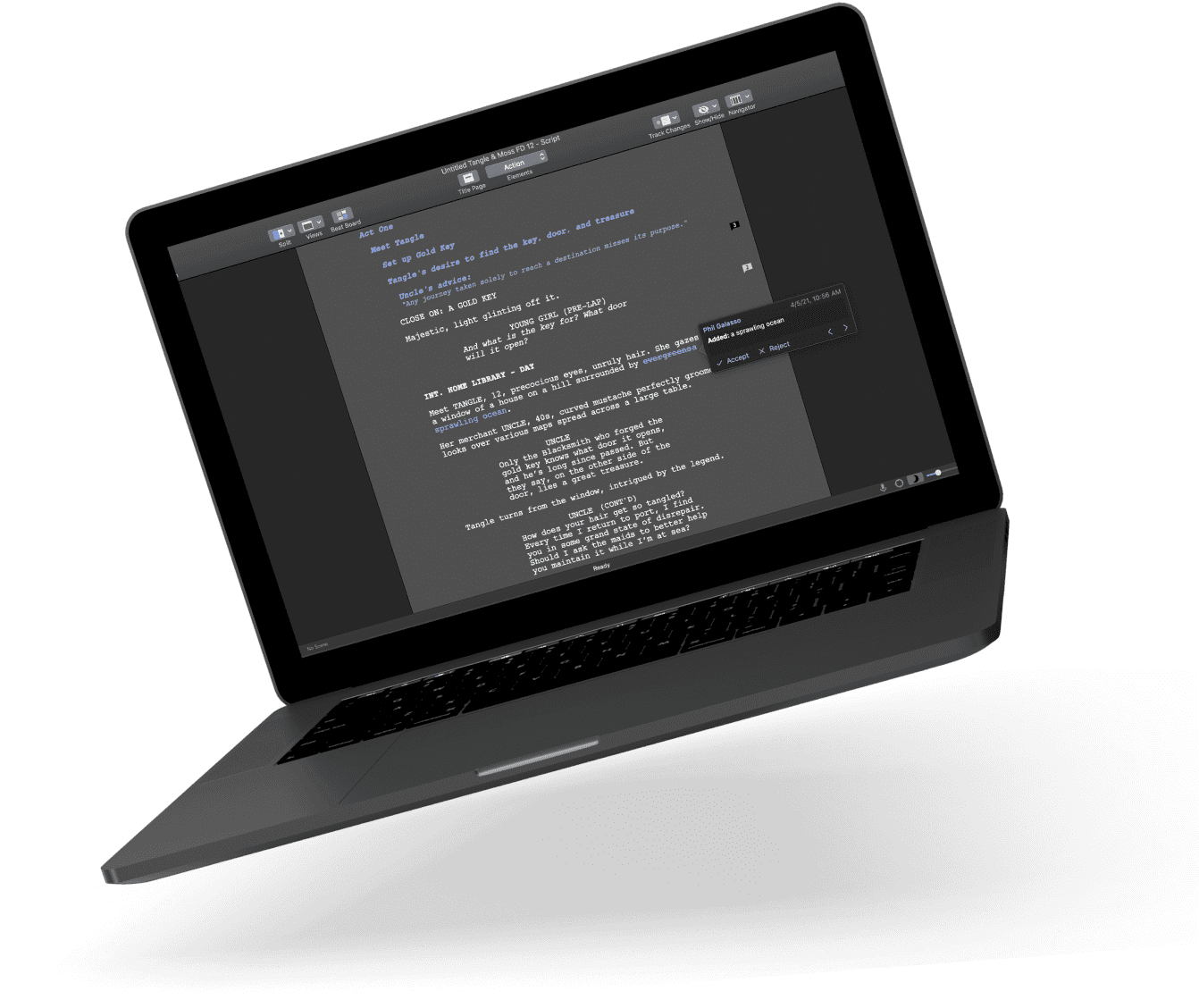 Now let's have a look at their pricing : ​
Final Draft can be purchased with a one-time payment of $200, which translates to a monthly subscription price $17 a month. It is important to note that upgrades to the software aren't included, and the current price of the upgrade from Final Draft 11 to Final Draft 12 is $80.Students and teachers can access it with a little low price a special subscription is available for the same.
Celtx is established piece of software in the screenwriting world, and another solid option for writers who want to do it all. Celtx boasts some powerful editing and revision features. Unique features like Read-through, which allows you to read your script aloud and fear the dialog as you build it, and Script Insights, which allows a real-time writing statistics and make changes based on your productivity.
Now let's have a look at their pricing : ​
Celtx provides three different packages which are classified as Scriptwriting, Video Production, and Enterprise. The Scriptwriting package which helps us to write a user-engaging script is available at $15 per month.The next Video Production package which allows the script-writer to directly engage their audience through video is available at $27 per month. And last but not least the Enterprise package is available as per the customized solutions.
Fade In is another mostly used software for script writing and also for motions, etc. Its user experience is also great and even it is compatible with almost all devices. It is software used for outlining, organizing, and navigating.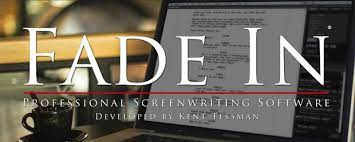 Let's have a look at their pricing : ​
Fade In provides the trial version to their user before the user buys their products. The package is available at $79.95. They provide some concessions for students accessing their products. The student who is currently enrolled in some accredited post-secondary education institutions can avail of the same package at $49.45(USD).
Arc Studio Pro is becoming one of the most widely accepted screenwriting tools with the help of its amazing user experience and features. It is also a tool that provides round improvement to our screenwriting and helps the user to take their screenwriting to the next amazing level. It also provides support with the cloud which makes the data safe and easily accessible. It is also considered a distraction-free writing tool.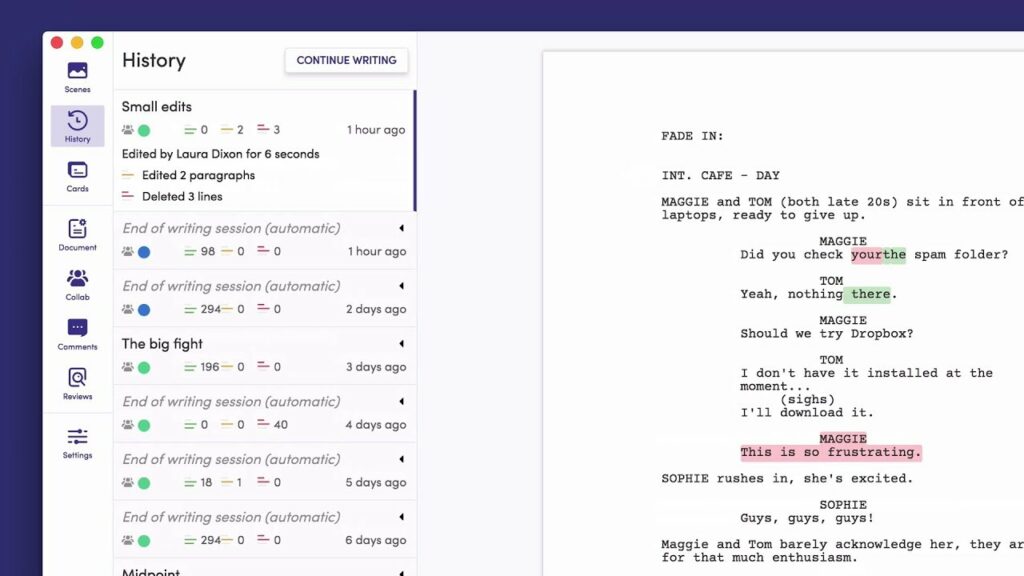 Let's have a look at their pricing : ​
Arc Studio Pro doesn't provide any annual discount on its product. But it provides a free 7 days trial to its user's so that users can experience the software and then select the appropriate one accordingly. The plan pricing starts from $0 to $99 per year as per the level of user the free version is $0, the essential version for $69, and the pro one is $99 per year.
Writing is a skill that can be enhanced, nurtured, and groomed by sharing it with other writers. The intermediate process of exchange of ideas, thoughts, views, and opinions leads a writer towards a different outlook and it almost covers all points of view. So, here we have WriterDuet where writers can exchange their ideas and work on their own screenplay software is considered the best tool for collaborating with other writers.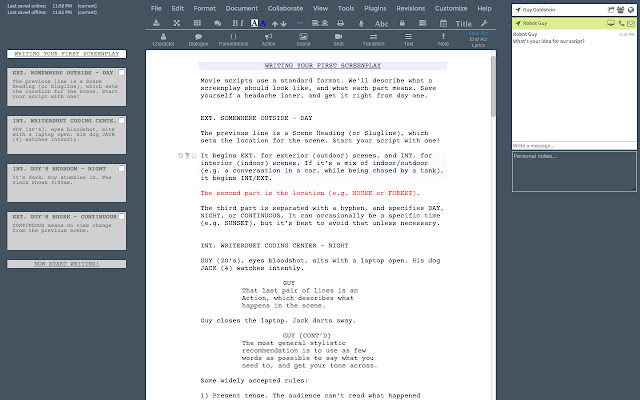 Let's have a look at their pricing :
Its price ranges from $5.99 per month to $9.99 per month. It provides the first 3 scripts for free and after that, the subscription period starts. Plus, pro and premium are the three plans available for the users on monthly basis. Plus is for $5.99, Pro is for $7.99, and Premium is for $9.99 as per the need of the users they can select the appropriate plan. They even provide an annual discount of $38.
Trebly is a software available for free of cost and it's most useful for writers who are on their budgets. Trebly is available on the most popularly used open-source platform-GitHub which leads to better development of the product. It was previously known as Blyte. It is most suitable for educational use.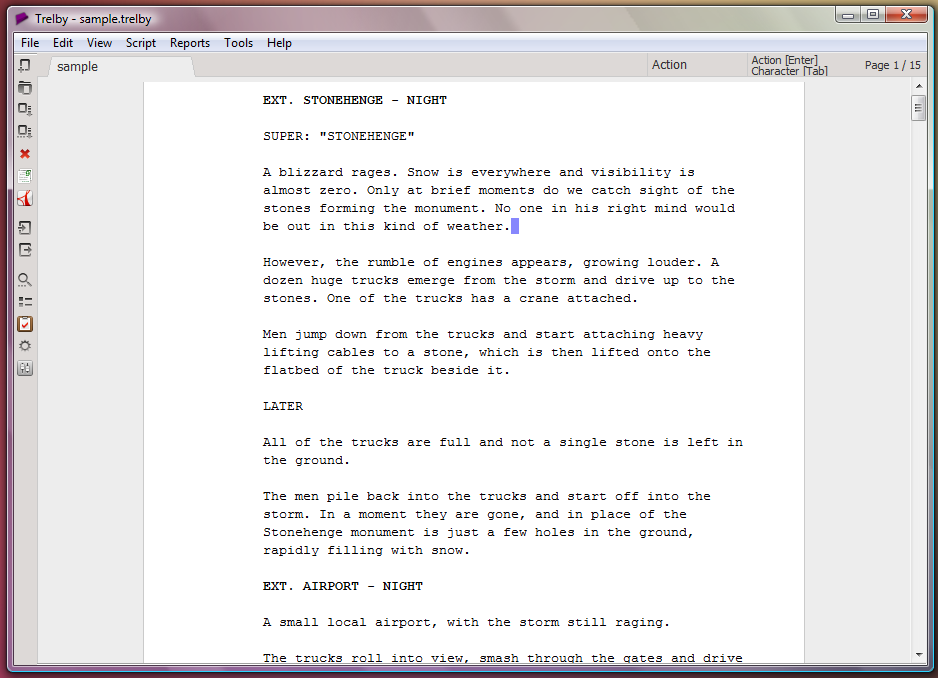 Let's have a look at their pricing : ​
It is available free of cost which makes it one of the strongest pillars for it to sustain in the market. As it's free so there is no annual discount available.
Movie Magic Screenwriter:​
Movie Magic Screenwriter is also a widely used tool in the film industry. It can be benefitted used for educational purposes, due to its wide range of amazing features. Its features are the strongest pillar of its success. The main key features are highly-customizable in real-time and even it offers the feature of notes and many other unique features.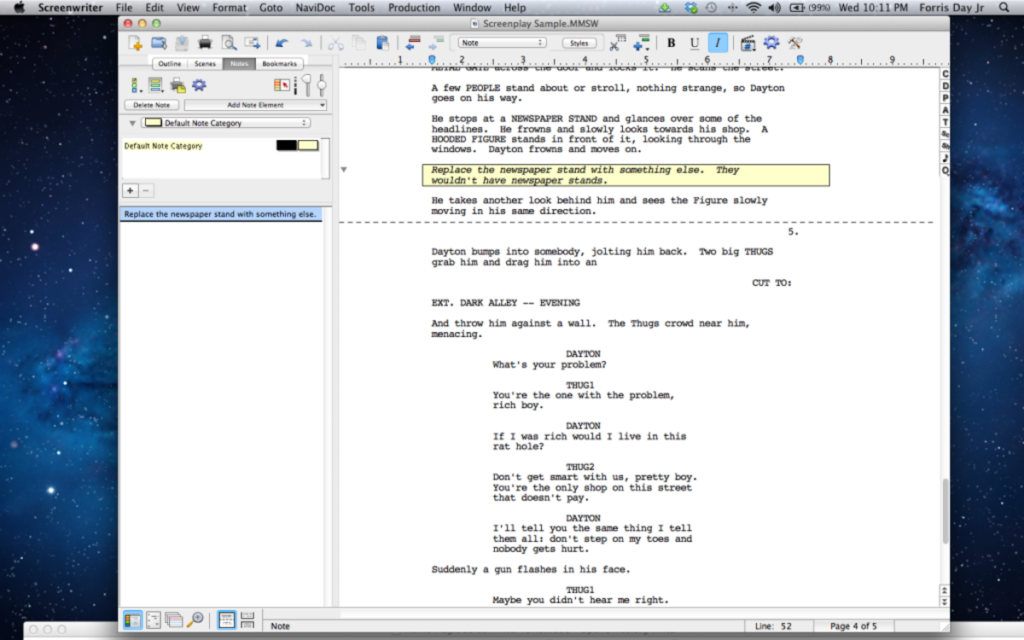 Let's have a look at their pricing :
Movie Magic Screenwriter provides different plans as per their versions. Version 6 is available at $169 and the upgraded price for the same packages is $89.95.
Version 6.5 is available at $69.95(only for mac).
The best scripting software is the one that understands your needs and helps you be more productive all the time. You have to keep in mind that screenwriting software can be a bit pricey, but it's worth the investment because it saves you the time and effort of writing movie scripts, screenplays, and many more. Having a great screenplay Alone may not be useful enough, but together with the best scriptwriting tools, it can help screenwriters break down their scripts and make their work easier, more precise, and more perfect.
So here we conclude that everything isn't perfect and similarly the different script-writing tools provide a wide range of amazing features which make them unique in their sense.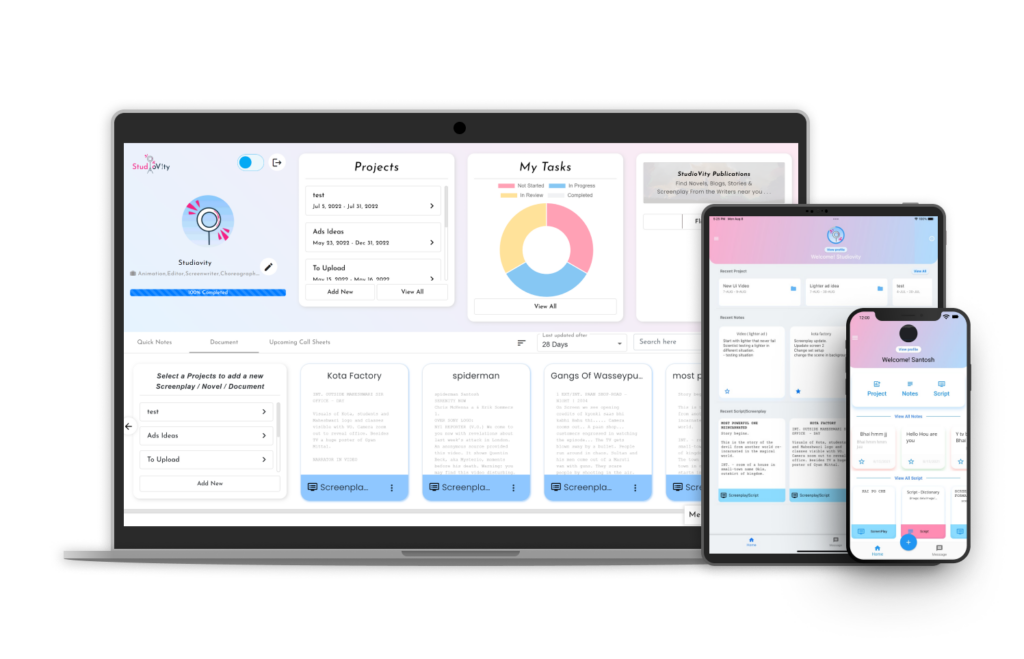 Having a well-constructed script is essential, but so is having a script that is well broken down. It makes it easier for the director, and crew members to read and short. Finding good Scriptwriting software can be a hassle. However, you can now enjoy an easy scriptwriting experience devoid of syntax or financial hassle only on StudioVity, a web, mobile-based, cross-platform screenwriting application. One of the most exciting features is screenplay breakdown, popularly known as an index card, industry-standard format, and quick notes on the go. You can write your script by just adding a document. Its features let you break down your script automatically. You can (download pdf, fountain, txt)add your cast and crew, call sheets, payment breakdown, standard report (PDF format), and shareable links to your production team—some great articles and blogs about movies, production, script breakdown, and many more. Besides the app being safe, importing and exporting files is much easier. You can also chat through the app and get recommendations and share ideas with others.