Alternative for choice for StudioBinder
Why Studiovity? Alternative to Studiobinder.
Affordable for users, easy compatibility, and great features make StudioVity a great screenwriting software. Knowing the exact pulse of the users and making changes has helped it to stand out uniquely in this industry.
StudioVity V.s StudioBinder
The comparison between the two amazingly great software is a bit difficult but let's find a way out of it. We all are familiar that there is a difference between an organization being motto-oriented and mission-oriented. StudioVity is motto-oriented, and StudioBinder is mission-oriented.
StudioBinder is one of the most famous and used tools in the industry, it lacks to provide the feature that will help the team members to coordinate more efficiently and manage their work chit-chats by keeping it safe and secure with the messenger UI. 
Here StudioVity comes into a movie.
StudioVity gives its users an outstanding feature that allows them to engage with team members whenever and wherever they choose. Personal and Professional chat would remain undisturbed due to this feature. StudioVity has understood the assignment and has even solved it.
Availability & Accessibility
StudioBinder has been a widely used and well-known tool, but is not available as a mobile application, making it difficult for most users to use it because it is not always feasible to have a laptop or desktop computer easily available for our tasks that have to be completed.
StudioVity being a cross-platform software has its android application which has made the life of many writers easier. And this simple step has made it stand out from the normal script-writing software in the industry.
StudioBinders provide the feature of a Task card wherein the user can assign tasks to its team members and can even keep a track of them. It includes almost entire details about the task to be completed by the team members. They need to follow a specific pattern to use this task manager
StudioVity provides this feature by allowing all the team members to access it with complete detailing about the same. StudioVity allows easy access to the Task Manager making it easily available to their users.
StudioBinder provides an extremely detailed call sheet which is sometimes not needed so a user might find it a little boring to use it as it will just increase the letters on a screen.
So here, we have StudioVity where all the necessary and the information of utmost importance is given preference, which grabs the useer attention by providing the details. The entire data will be available at a single glance here which reduces the user's manual efforts.
StudioBinder lags in providing all data at a single glance and allows its users to find their data separately every single time, even which would help its users to create great content and management of the film or script easier.
StudioVity has a catch here
Yes, StudioVity gives the function of homepage analysis, which makes things simpler and easier for its customers by making all data available at a single glance, giving the user a rapid notion of what has been done and what is yet to be done.
Beat-Sheet provided by StudioBinder has an interesting and good user interface and it has 15 beats and much more available on its interface.
StudioVity provides this feature with a great user interface with lots of interaction and it's used for making story outlines which seems to be quite time-consuming, but with the help of StudioVity the user's efforts can be reduced and they can even level up their script.
StudioBinder makes the work of users easier by providing all the details but one can't enter a few minute's details as they are automatically filled in. It includes all the information that is necessary, but also some information that's unnecessary with which the user won't be comfortable.
StuidoVity provides the amazing feature of an Index card wherein the user only have to drag and drop in the main sheet and the rest of everything here is automated which proves to be more convenient for the user to use the tool and keeps the user's continuity for a longer period of time.
StudioBinder provides this feature, but it's not that interactive.
StudioVity has interactive customer support which helps the user to solve their problem easily within no time.
The shot list feature is provided by StudioBinder, with lots of interactive stuff available for the users. It helps all the team members to view that data.
StudioVity also provides this amazing feature of a shot list which proves to be a time-saver even all minute details related to the scene can be incorporated easily.
StudioBinder provides free access only to a certain extent. It has different packages like Indie and Studio which are available at $29 and $99 per month, which seems to be a little costlier for new writers and users. So here comes StudioVity to help out the newbie to get the best with the less amount.
StudioVity provides its access for free to the user till they want under which they can access all the basic required features. But if the user wants to level up their script it can be done by accessing the PRO/paid version at $1.88 per month.
StudioVity and StudioBinder both are perfect in their sense and manner. Both tools used for the almost same purpose has allowed users to select the right software as per their need and requirements. All users don't have the same point of view and neither they have the same work or task that would be completed using this software so their user experience will vary a lot, but this doesn't mean that any particular software is good or bad, it's just their point of view.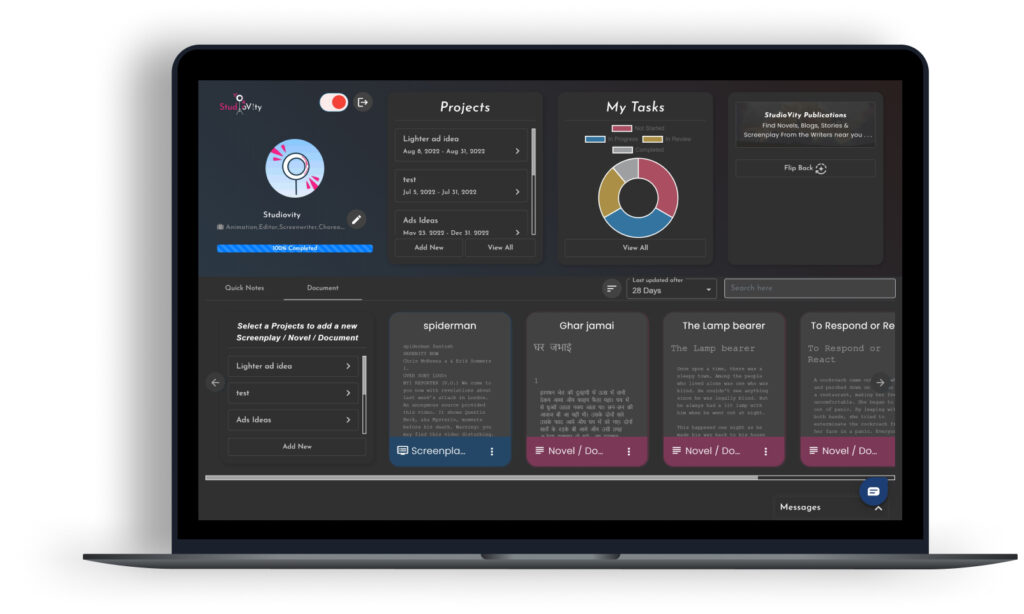 StudioVity - Screenwriting and Pre-production Software.
Just writing the script, without proper and perfect tools might become a tedious task to manage everything at the same time perfectly. So using StudioVity will sort out most of your problems and will never let you down as you all that having a well-constructed beat sheet is essential, but so is having a script that is well broken down. It makes it easier for the director, and crew members to read and short. Finding good Scriptwriting software can be a hassle. However, you can now enjoy an easy scriptwriting experience devoid of syntax or financial hassle only on StudioVity, a web, mobile-based, cross-platform screenwriting application. One of the most exciting features is script breakdown, popularly known as an index card, industry-standard format, and quick notes on the go. You can write your script by just adding a document. Its features let you break down your script automatically. You can (download pdf, fountain, txt)add your cast and crew, call sheets, payment breakdown, standard report (PDF format), and shareable links to your production team—some great articles and blogs about movies, production, script breakdown, and many more. Besides the app being safe, importing and exporting files is much easier. You can also chat through the app and get recommendations and share ideas with others.