A screenwriter or scenarist is a writer who practices the art of writing scripts for mass media, according to Wikipedia. They write scripts for short films, feature films, commercials, video games, television, plays, skits, etc.
You can find the secret recipe, a step by step guide, here to follow to become a screenwriter. Bring your notebook and pen. You are going to need to take notes.
If your interests are around creative writing and reading and you happen to be a film buff, then lucks on your side to become a screenplay writer. While it takes Herculean efforts, hard work, and a massive pot of luck at your doorsteps, you must be willing to climb few steps to improve your shot at becoming a fantastic screenwriter.
The list of skills required/ the steps to climb to become the best of the best screenwriter ever :
Compelling and robust linguistic skills

Keen observation skills

Creativity and consistency

knowledge of movies and persistence

Discipline and passion

Good interpersonal skills

 An innovative but straightforward writing style

to deliver genre expectations

To be forthright and confident

To be open to every opportunity

To be able to take criticis
Do you check all the skills on the list on becoming a screenwriter? Amazing.
Step 1: Make screenwriting to be your number one priority. Make sure it is your everything. Absolute everything. This step requires a lot of willpower and determination. Treat it like a job and not a hobby. Strategise and plan your way to getting paid. There are many good stories out there about screenwriters who quit their day jobs to focus solely on their writing, only to end up broke inevitably. As your dedication grows for penmanship, automatically, your day job will become your side gig.
Step 2: Mastering the craft of writing. There are a million writers, and you are one among them. To outshine the millions, you have to be at the top of your game. Do more research on the legends of screenplay writing. Exploration is the key to this step. Do not restrict yourself to one style of writing. Explore. Read and analyse all the books you can find.
Step 3: Find a mentor. Mentorship is a great way to get a foothold in the industry. Find a person to keep you accountable for your writing. There are also mentorship programs for aspiring screenwriters.
Step 4: Now, it is time to form connections. Networking is the key. Expand your network. The more people in the show biz you know, the better. Making connections and finding success is a two-way street. 
Step 5: Join a writer's group. Form a simulated writers room with other writers. Discuss and debate plot ideas for a current television show, and come up with future episodes. It is a great way to share ideas, work collaboratively, and practice creative writing.
Step 6: Know your worth. Most of the time, you will end up with an unpaid gig. Decide for yourself if your hard work is worth the deferred payments. Keep in mind that you are talented enough to get paid if someone is willing to give you a deferred payment opportunity.
It will never be an easy task, you will end up getting lost amongst a forest of thorns and bushes, but all that matters is your blood, sweat, tears and self-belief. 
StudioVity is India's first web, mobile-based video production management tool. It is an end to end product management platform that allows you to increase your project's productivity. Write your script by just adding a document, and you don't need paper anymore. Its features include script breakdown; you can add your cast and crew, call sheets, payment breakdown, standard report (PDF format), and shareable links to your production team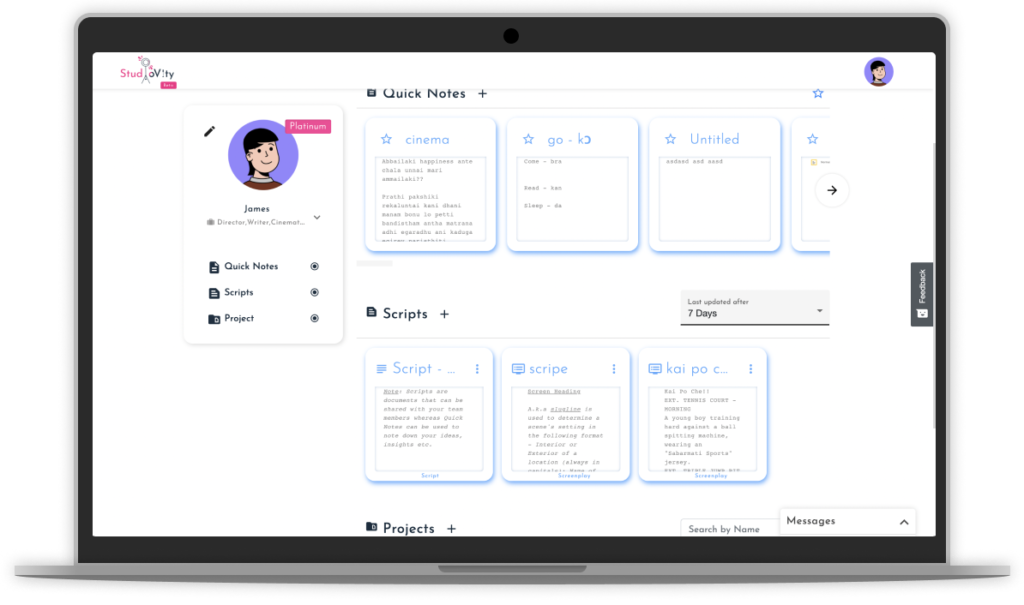 Get free scriptwriting tool
To learn more about production houses dominating the bollywood world Visit