Summary and Screenplay Pdf Download
Introducing the characters
The movie starts by introducing the male protagonist. He is an alien who has visited earth. Unfortunately, his remote controller with which he could contact his planet is stolen as soon as he reaches. The movie then takes us to our female protagonist. A young girl in love with a boy of a different religion. She went against her father's will to marry her lover, but the lover ends up not arriving on the wedding day. She comes back to her hometown but is unwelcomed by her father. Tapaswee Jee: a self-proclaimed saint, is the villain of the movie. Considering himself to be a messenger of God, he feeds on people's faith and trust and earns money by doing so. The female protagonist's father is a huge devotee of Tapaswee Jee, and he was the one who warned the female protagonist about her lover. 
People are unknown to the fact that this guy is an alien as he looks too human. He asks people for his remote on reaching the earth, to which everyone responds," God Knows". Unknown to the concept of God, he searches hard for him but in vain. He is also given the name PK as his strange questions often perplexed people who asked him," अरे पी के है क्या?" (Are you Drunk?). During his quest to find God, he crosses paths with the female protagonist named Jaggu. Jaggu is now a news reporter. Tired of covering irrelevant news, she is looking for a piece of big breaking news. She is intrigued by PK's personality. She befriends him. Pk gains faith in Jaggu and tells everything about himself. He also tells her that Tapaswee Jee has his remote and claims it to be a fragment of Lord Shiva's Damru. Pk thinks Tapaswee Jee is innocent, and the God he is reaching out to is a wrong number who, with weird solutions to people's problems, are kidding with him. Jaggu knows the actual truth and assures Pk that she would help him get back his remote. But she also says that he must make Tapaswee Jee realize the wrong number he has been reaching out to. 
Pk and Jaggu try hard to get back Pk's remote. They broadcast news, visit Tapaswee Jee's satsangs often, etc. But all of this goes in vain. Jaggu finally comes up with a plan to live broadcast Pk's and Tapaswee Jee's interaction on Live Television. If Tapaswee Jee is found guilty in this interaction. He shall return Pk's remote back to him. Simultaneously, with Pk's and Jaggu's efforts, the layman had started finding default in the ways of these self-proclaimed saints. Seeing the popularity of the saints decreasing, Tapswee Jee agrees to Jaggu's proposal for the live broadcast.
Meanwhile, Pk had been gaining popularity. He was all over the national television. Seeing this, a good man who helped him at the beginning of the movie calls him up and fixes a meet-up. However, as soon as he steps foot in the city, he dies in a massive explosion, a part of a religious riot. Pk is shaken to his core but still decides that he must meet Tapaswee Jee
The day of the live broadcast arrives. Tapaswee Jee accuses Pk of several things. Pk first quietly listens and then responds. He blames Tapaswee Jee, and several such people for dividing humans with tears filled up in his eyes. This division has come to a point where people cannot distinguish between what is wrong and what is right. He further brings up Sarfaraz: Jaggu's Lover. He asks Jaggu to call him and ask him why he did not come to the wedding. After a lot of persuading, Jaggu agrees. She calls him up only to know he was late that day. He waited all these years for Jaggu. Pk further reminds Jaggu that despite going against Tapaswee Jee, her mind was so preoccupied with these thoughts that she did not try finding out the reality. 
Pk gets back his remote and leaves. Jaggu gets back with Sarfaraz and writes a book about her extraordinary story. Jaggu's father, a massive devotee of Tapswee Jee, realizes his mistakes and welcomes Jaggu and her lover with an open heart. 
We see another spaceship land on earth, and one more human look-alike alien steps down. With a remote similar to that of Pk, he looks around, and the movie ends. 
All the elements of the movie have been very well used in delivering the intended message. The writers have done a fantastic job at scriptwriting. Here comes Studiovity, India's first video production management tool. It is a web, mobile-based video production management software; Studiovity is an end to end product management platform that allows you to increase your project's productivity. Write your script by just adding a document, and you don't need paper anymore.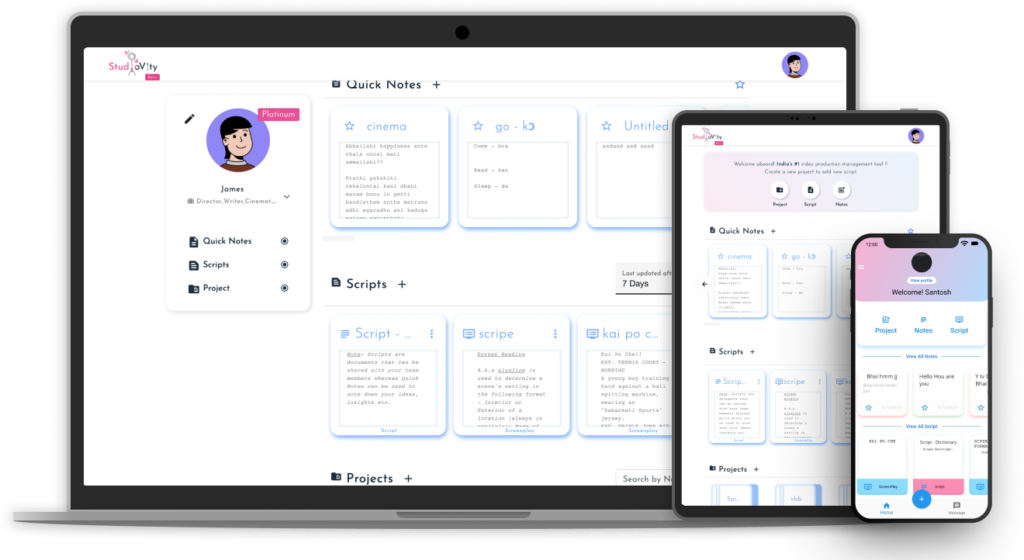 Its features include script breakdown; you can add your cast and crew, call sheets, payment breakdown, standard report (PDF format), and shareable links to your production team.  
Get Free Script Writing Tool