Eternal sunshine of the spotless mind
Get the Screenplay-Film Script.
Eternal Sunshine of Spotless Mind Is American science fiction between romantic comedy-drama film which has been beautifully written by charlie kufman and brilliantly directed by Michel gondry , this drama had an amazing star cast including Jim Carrey, Kate Wilkinson ,kristen dunst ,Marck ruffalo, Elijah Woods, Tom Wilkinson and many other brilliant actors, it portrays two old lovers , who have alienated each other from their memories.
The credit for the film title goes to the poem written in 1717 by Alexender pope.
To explore the nature of memory and romantic love the writer has beautifully used the elements of his psychological love, non-linear narrative and science fiction to his advantage in order to structure the plot.
It was a great success and made 74 million dollars at the box office and not only that but it also won the academic award of the best original screenplay and the lead actress, Winslet received a nomination for the Academy Awards for the best actress, It got so famous that after one year of its release it developed a cult and was regarded as the best films of the early 21st century.
You can take the help of StudioVity to create your first script, India's first video production management tool. It is a web, mobile-based, cross-platform video production management application. Studiovity is an end to end product management platform that allows you to increase your project's productivity. Start writing your script for free on StudioVity today. Its features also include script breakdown. You can add your cast and crew, call sheets, payment breakdown, standard report (PDF format), and shareable links to your production team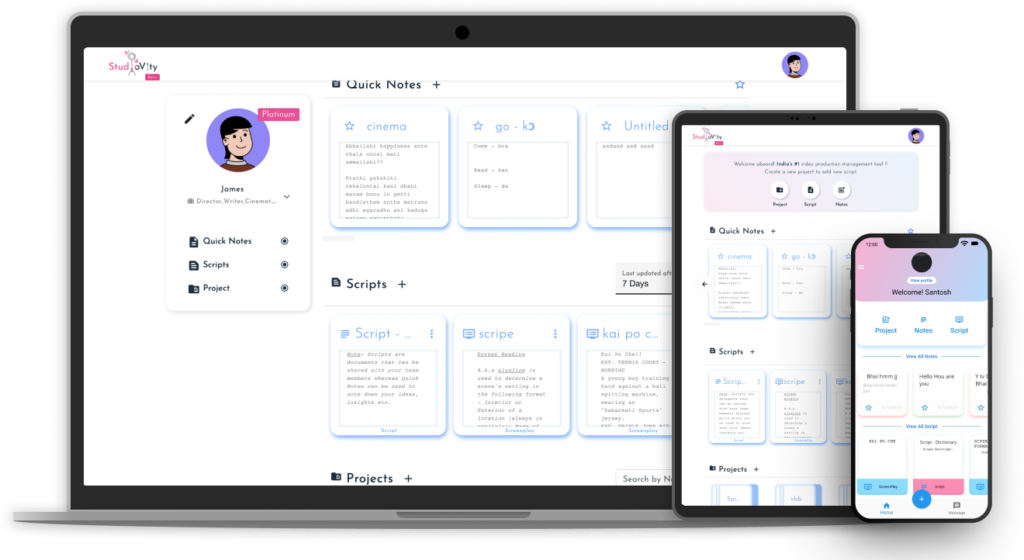 Studiovity Dashboard: Screenwriting & Film Pre-Production.