StudioVity is an incredibly easily accessible and compatible script-writing software that provides fabulous features to its users at comparatively lower prices. The easy compatibility and interactive UI make it one of the best parts and a strong pillar of its success.
Why StudioVity is an alternative to Final Draft
The software's motto has to be crystal clear software should be of the utmost help to all its user. So let's look at the mission of Final Draft; it aims at providing the film industry with the perfect structure needed for a proper breakdown and management of a script and a film. StudioVity is a platform to improve the productivity of the film and make the best out of their project every single time.
Final Draft provides many features but doesn't provide one of the most helpful features of homepage analysis that makes the content and the management of the film or script easier.
StudioVity has understood the need of its user very well it provides the feature of homepage analysis that allows its user to look at the entire management activities at a glance.
Final Draft is the most commonly used tool in the industry, but it still lacks in providing the feature of utmost importance that's the messenger, which will help the team to be connected easily.
StudioVity provides an amazing feature of messenger with an interactive and attractive UI that makes the work of team members much simpler to communicate among themselves and even helps to keep your professional chats safe, secure, and separate from personal chit-chat.
This feature makes StudioVity stand different from Final Draft.
The final draft provides this feature but the information that is available is in static form which makes it quite boring for the users.
StudioVity also provides the fabulous feature with great user interaction along with amazing UI design, it's time-saving and all the minute details can be incorporated easily.
Final Draft doesn't support some of the languages, but one can add it into their content by following certain steps that seems to be time-consuming, whereas StudioVity provides easy access to 350+ languages.
StudioVity has an excellent understanding that most people are most comfortable with their home language by making their tool available and accessible in those languages will surely increase the user count; provides its tool in more than 300+ languages that's a great thing.
Final Draft provides the feature of a beat board which is quite similar to a beat-sheet, the user interface is not that attractive and interactive which makes it a little boring at times.
StudioVity provides this feature with a great user interface with lots of interaction and it's used for making story outlines which seems to be quite time-consuming, but with the help of StudioVity the user's efforts can be reduced and they can even level up their script.
The Call Sheet feature is provided by Final Draft in a well formatted manner. But this facility is not available without accessing their packages, which seems to be difficult for the users.
So here, we have StudioVity where all the necessary and the information of utmost importance is given preference, which grabs the user's attention by providing the details. The entire data will be available at a single glance here which reduces the user's manual efforts.
Final Draft provides this feature by allowing its users to use both sides of the card. So just by flipping the card user can get all the information which is been written there. This sounds interesting but just for a while.
StudioVity provides the feature with a perfect and simple yet beautiful user experience. This lets the user plan out everything here on the card in a sequential manner.
Final Draft provides the feature of import and export but not in the same format as imported; most of times happens that the imported document is all messed up and to regain the entire data in the same format one needs to follow some steps to recover back the same. The users would find it time-consuming and move on to something that will reduce their human effort and save them time.
StudioVity has worked on this and has an amazing solution that provides a feature that makes lots of tasks easier and also proves to be a great time saver. StudioVity can export in the same format that's mentioned in the import. One can edit it into a pdf, fountain, and even on text format. It doesn't change the format of the imported file it keeps the data in the same format.
Final Draft provides almost all the features but the feature of Task Manager is not available, with the incorporation of this feature the user can manage their task very well and make sure that their team members have access to it.
So here we have StudioVity that provides this feature and makes users easily manage their tasks which doesn't remain restricted only to the individual user but to the entire team members. Such features make StudioVity stand out uniquely from all other softwares.
Final Draft provides the facility of a one-time payment of $200 in accordance with the monthly subscription of $17.Students and teachers are benefitted from using this as they can access the packages at comparatively lower rates.
StudioVity provides basic and necessary features to its users until they want to take up the premium versions. There is no time that takes StudioVity to stand out uniquely. But if the user wants to level up their script it can be done by accessing the PRO/paid version at $1.88 per month.
Just writing the script but without proper and perfect tools it might become a tedious task to manage everything at the same time perfectly. So using StudioVity will sort out most of your problems and will never let you down as you all that having a well-constructed beat sheet is essential, but so is having a script that is well broken down. It makes it easier for the director, and crew members to read and short. Finding good Scriptwriting software can be a hassle. However, you can now enjoy an easy scriptwriting experience devoid of syntax or financial hassle only on StudioVity, a web, mobile-based, cross-platform screenwriting application.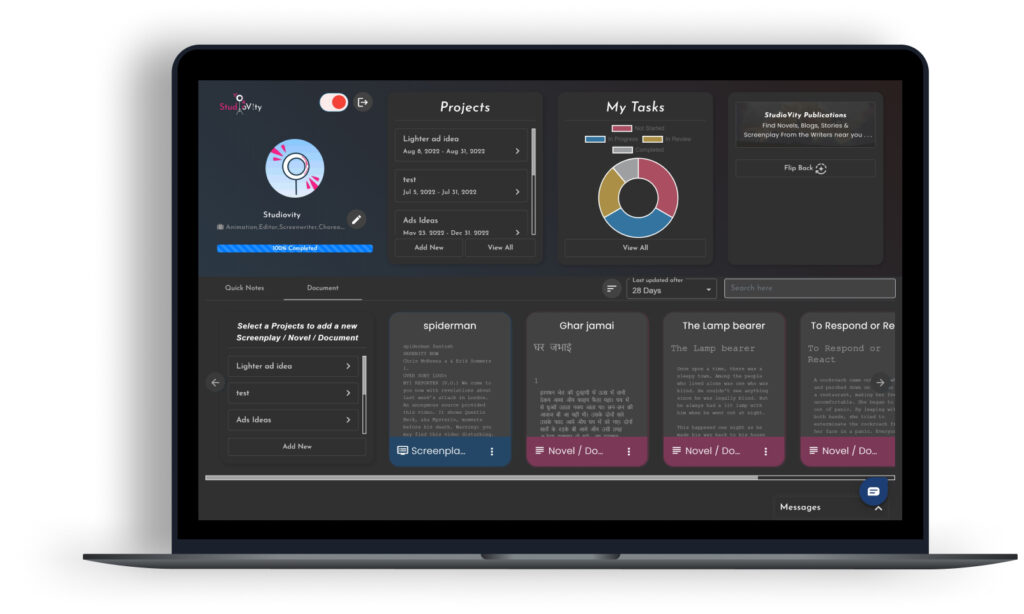 StudioVity - Screenwriting and Pre-Production software
One of the most exciting features is script breakdown, popularly known as an index card, industry-standard format, and quick notes on the go. You can write your script by just adding a document. Its features let you break down your script automatically. You can (download pdf, fountain, txt)add your cast and crew, call sheets, payment breakdown, standard report (PDF format), and shareable links to your production team—some great articles and blogs about movies, production, script breakdown, and many more. Besides the app being safe, importing and exporting files is much easier. You can also chat through the app and get recommendations and share ideas with others.