Screenwriting & Short Story Writing Competition
Get Ready for Season 1: Our Creative Writing Competition is Here!
"Join Our Creative Writing Competition and Win Cash Prizes up-to Rs. 223,000+"
The first season of our creative writing competition is now open for submissions. You can submit your original works such as poems, short stories, articles, essays, and more for a chance to win exciting cash prizes of up to Rs. 100,000, opportunities for publication, and many other rewards. Don't miss out on this opportunity to showcase your writing skills and win big!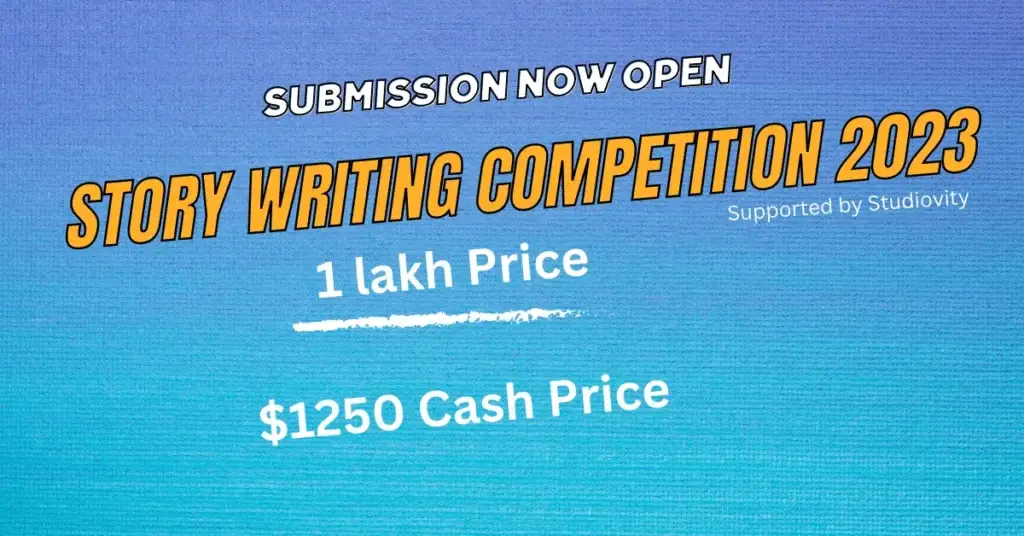 Story Writing Competition 23
Unleash your storytelling prowess and apply for the captivating Story Writing Competition 23, where you have the chance to win up to 1 lakh INR!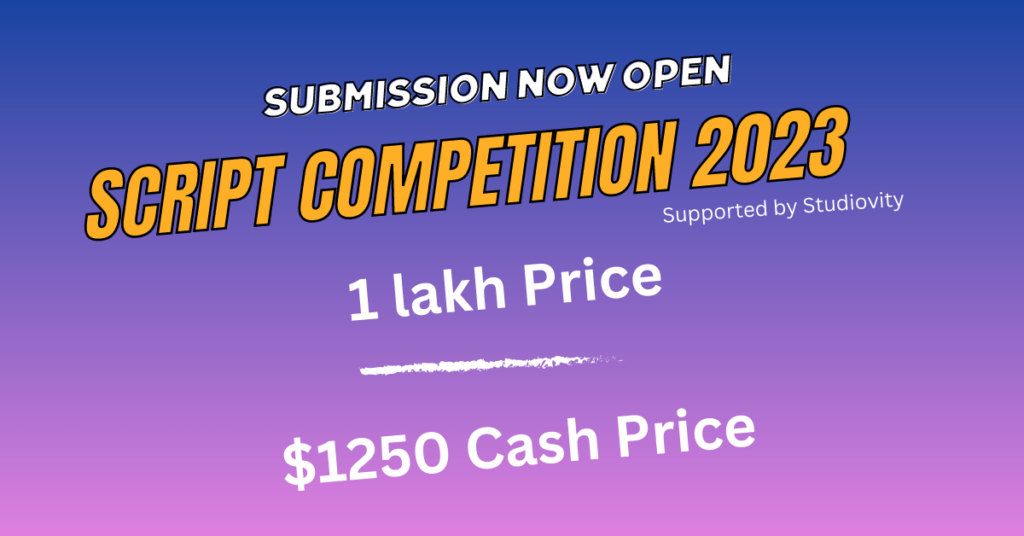 Film Script Writing Competition 23
Discover your storytelling potential in Screenplay Competition 23, where you have the chance to win an impressive prize of up to 1 lakh Rs!
Participants have the opportunity to win in multiple categories,
We are one of India's leading platforms for online Poetry and Creative Writing competitions. We award you in cash prizes, certificates, publications, StudioVity PRO and Film makers pitch.
The top 10 participants will receive a cash prize of Rs 1,000 each.
Step 1 – We will select and present your story, along with a Memorandum of Understanding (MOU), directly to renowned directors and producers. 
Step 2 – If they express interest, we will connect you with the respective director. 
Step 3 – This not only helps your creative work gain recognition from the best in the industry but also offers potential monetization opportunities based on your negotiation with the director.
Note: Your level of commitment and enthusiasm in working with them will determine the extent of success. Studiovity will assist in arranging the meeting. The subsequent follow-up, negotiation for selling your creative work, discussions, and further collaboration on the film script will vary depending on the individual candidates.
will receive a Certificate of Appreciation granted by the selection committee of Studiovity.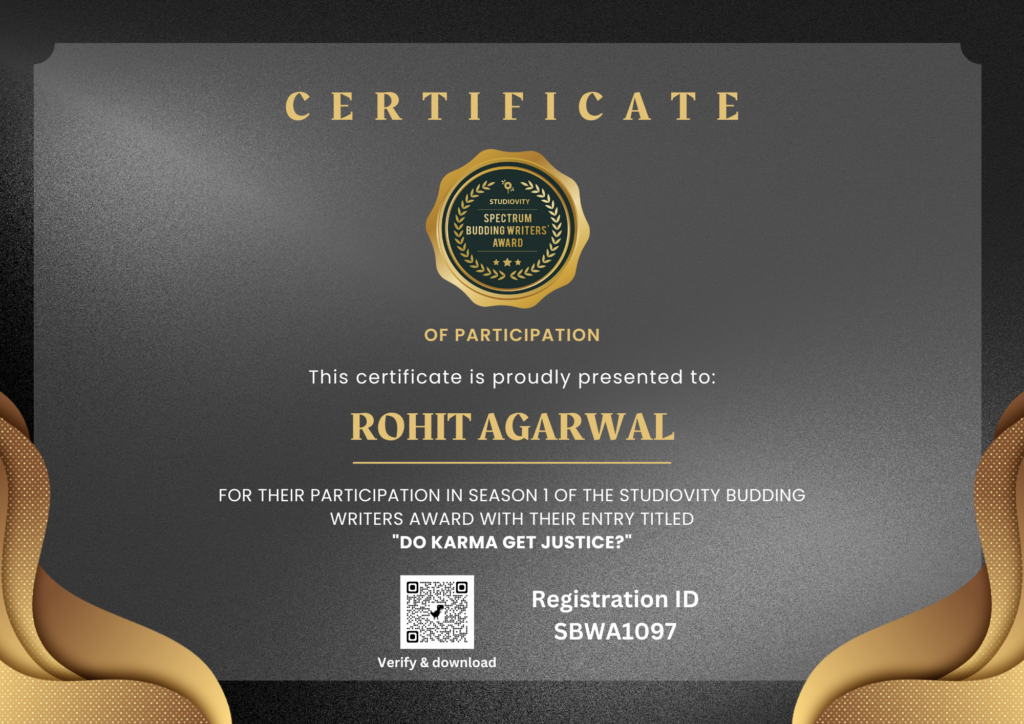 will receive a report card containing feedback from the judges.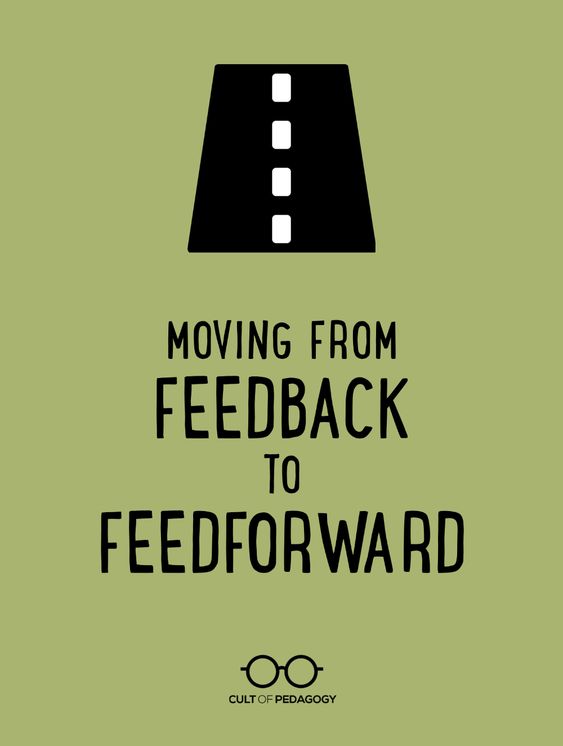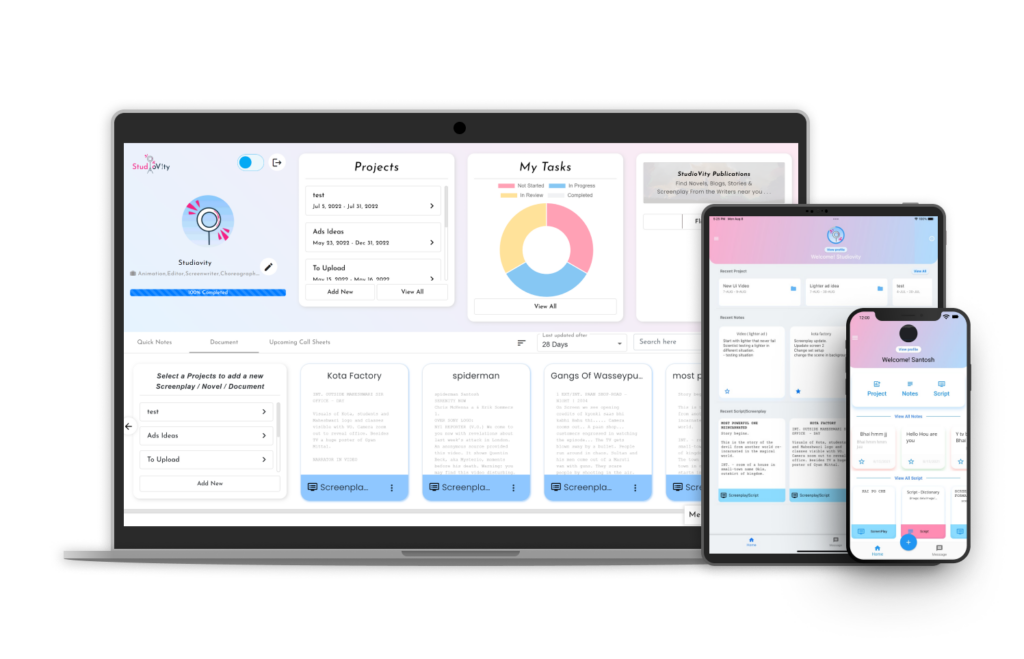 Each participant will receive a complimentary 3-month subscription to Studiovity PRO.
Studiovity has been recognised by renowned organisations such as Startup India, Razorpay, and NASSCOM 10K Startups, as well as DPIIT for its exceptional work and innovative solutions.
Just like crafting a screenplay for a movie, book or poem, the journey of writing is a laborious yet enchanting process. 
However, after this arduous journey, you emerge with a cinematic masterpiece worthy of earning multiple prestigious awards.
But what lies ahead on this creative odyssey?
Should you consider participating in a contest to showcase your writing skills and potentially win awards?
How can you monetize your work and make money from your writing?
What are some strategies to gain exposure for your writing skills?
Is it possible to find opportunities where someone will pay you to write for them?
Here are some answers to your unyielding questions!
Gain the ultimate exposure as an author by having your winning entry published in renowned national dailies like Hindustan Times or Mid-Day!
Pitch your winning entry to acclaimed directors or YouTube platforms like TVF or Story Podcast to gain unparalleled exposure as an author.
Receiving recognition for your writing and the bravery to share it with the world is of utmost importance. Participating in a prestigious contest like Studiovity's Creative Writing Competition accomplishes just that. You will be awarded a Participation Certificate, acknowledging your talent and courage, and providing an early boost to your writing career.
If you're interested in earning income through writing, whether as a primary or secondary source, consider participating in contests like Studiovity's Creative Writing Competition, which offers cash prizes as rewards.
Whether your ultimate aspiration is to have your work showcased on platforms like Amazon Prime, Netflix, or published as a book, column, or blog, winning an award can significantly enhance your credibility among both fellow writers and the general public. Submitting your work and receiving accolades not only establishes a loyal readership but also expands your presence across social media channels.
Driving technology for leading brands
Most frequent questions and answers
Email info@studiovity.com