The most crucial aspect of a screenplay is putting up a script with a strong structure and a decent mix of scenes, story elements, and character arcs. Whether you are an experienced artist or a beginner, you may produce a masterpiece by following to and using a few basic guidelines. With the help of the outline, a screenwriter may create a basic list of the scenes and events that will be written in a screenplay in the order that they will occur. By outlining a screenplay, you will acquire a technique for planning and organisation that will last a lifetime
Why outline your Screenplay?
A brief Understanding of Screenplay outlining.
Outlining the screenplay keeps our focus and helps us to be with the point and not inculcate exaggerated things into it. An excellent outline can take a character closer to the audience than expected. By creating an outline for every scene of your script, one can keep tabs on multiple characters and make sure they undergo the growth they deserve.
StudioVity - How to Write screenplay in StudioVity App.
Let's learn to outline your screenplay in just 6 easy steps :
Starting with a beat sheet

Moving onto an index card

Start documenting the document, scene-by-scene

Describe actions and revelations

Insert dialogues as it comes to you

Use your outline as a tool
Starting with a beat sheet :
As we all are familiar with the idea of the beat sheet, so it can be considered a condensed and compact version of your entire screenplay. It seems to be usually a little longer than the logline, but it's restricted to a few pages. The process of breaking the actions and character with the help of a beat sheet reduces all minor mistakes and gives a powerful impact on the audience by taking good care of minor changes.
Moving onto an index card :
Again comes a concept that is even familiar to a perfectionist and even to the newbie. Using coloured index cards can help us to represent our story characters and make their narratives more interesting and will make it easier for us to track the script. Assigning different stories a different color can help them keep separate and easily identifiable without wasting much time. Writing the basic story beats on these cards and then arranging them sequentially will help you to create and visualize the story you want to create.
Start documenting the document, scene-by-scene
By making proper utilization of beat sheets and index cards as guideposts, we all are now in a state to process it to software. Here describing the goal of the scene comes to be the most important part of the entire process because without detailing the set-up would be a mess.
Describe actions and revelations :
Beneath each heading of the scenes mentioned earlier is the description of what happens in the scene and what message has to be conveyed to the audience. It helps us to be answerable for the questions such as: What message can the audience interpret through this particular scene?
Why too many emotional shifts within the same character? etc.
Insert dialogues as it comes to you :
Even though you aren't formally drafting your screenplay, however, you'll begin considering lines of exchange as you diagram the plot. Incorporate that exchange in your diagram, and call upon it when composing your, to begin with, draft.
Use your outline as a tool :
Using the most powerful too; for the final formatting is none other than your outline itself. As it contains all the detailed information about the characters, their actions, and even the background or surrounding knowledge is also provided which makes everything much shorted and smoother.
Having a well-constructed beat sheet is essential, but so is having a script that is well broken down. It makes it easier for the director, crew members to read and short. Finding good Screenplay writing software can be a hassle. However, you can now enjoy an easy scriptwriting experience devoid of syntax or financial hassle only on StudioVity, a web, mobile-based, cross-platform screenwriting application. One of the most exciting features is screenplay breakdown, popularly known as an index card, industry-standard format, and quick notes on the go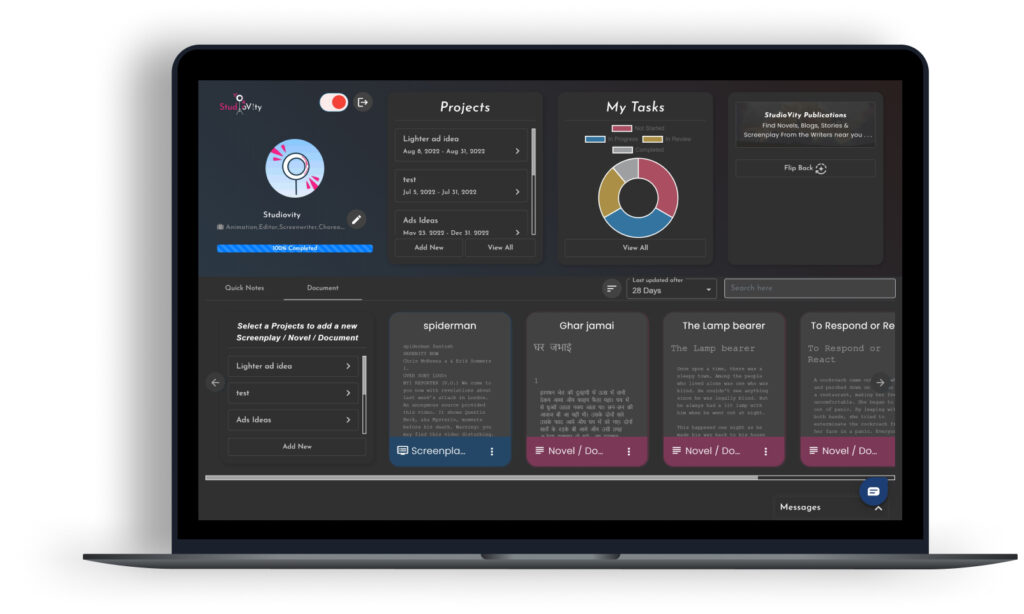 You can write your script by just adding a document. Its features let you break down your script automatically. You can (download pdf, fountain, txt)add your cast and crew, call sheets, payment breakdown, standard report (PDF format), and shareable links to your production team—some great articles and blogs about movies, production, screenplay and many more. Besides the app being safe, importing and exporting files is much easier. You can also chat through the app and get recommendations and share ideas with others.